Creative copywriter or content writer? Which do you need? Is there a difference? If so, what is it? Does it matter? Words are just words, aren't they?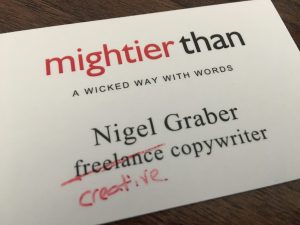 Creative copywriter? You probably complain loudly about the rise of 'content writing', especially when content writers pass themselves off as creative copywriters. But of course, there's a certain amount of crossover. So let's deal with the centre of this wordy Venn diagram first.
The creative freelance copywriter and content writer meet where all good writing goes for a friendly coffee. This is a place that makes the reader the centre of the action, and that peppers its prose with short sentences and short words. It seeks to strike up a conversation, not batter its victim with code.
It's a place that uses contractions, one-word statements and active writing. Somewhere that's not afraid to start a sentence with 'and' or 'but'. A user-friendly establishment that scores over 70 on the Flesch Reading Ease Scale (and five for hygiene).
These are the building blocks of decent writing. But, beyond this, the paths diverge. The difference between the creative copywriter and the content writer is the difference between persuasive weaponry and gentle entertainment.
A creative copywriter sells
A creative copywriter is out to sell. Make no bones about it, even if they're simply creating a tone of voice rather than drafting a sales letter, an email sequence or a print ad, a creative copywriter has engineered that specific tone to sell, sell, sell.
The creative copywriter and their team have focus-grouped, mulled-over and style-guided the copy to within an inch of its life. Every single word selection is designed to chime with the target audience's lifestyle, belief system and social demographic.
Yep, the Innocent Drinks pack copy isn't as innocent as it seems. Behind it all is a rabid team of sales-hungry fruit salesmen who know exactly which buttons to push to elicit the precise response that'll get their audience slurping on their mushy sugar morning, evening and night.
The creative copywriter: it's emotional
A creative copywriter is looking for an emotional connection with the reader. Consider those old Harley Davidson print adverts. Okay, we're dealing with prehistory here, but there's an instructive lesson to be had.
When Carmichael Lynch teamed the photo of the guy on his Harley on an open road with the headline, 'Somewhere on an airplane a man is trying to rip open a small bag of peanuts', they didn't just nod towards a mood, they tapped into a movement.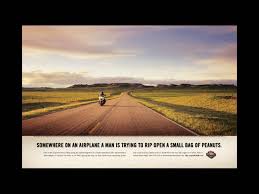 This isn't the kind of stuff you can expect from a content writer. Creative copywriters are more creative (hey, no!), more emotion-focused… and more expensive than content writers.
Creative copywriter concepts
Yep, a creative copywriter comes up with ideas. Expensive ones. So study their website portfolios. Your creative copywriter will have a page choc-full of clever headlines, print ads, TV ads, banner ads and poster work. In short, concept work.
Your content writer will have a bunch of blogs, websites, social-media stuff, whitepapers, eBooks and emails on display.
That's not to decry blogs. I've written plenty myself. They perform a valuable SEO function and keep your website ticking over so that Google knows you're alive and kicking. If they're entertaining enough, they'll also prompt readers to hang around on site, sometimes long enough to actually buy.
But is there a third wheel? I reckon so. As I wrote in this blog, somewhere between the creative copywriter and the content writer is another breed: the semi-creative copywriter.
These people get the call for persuasive website copy, tone-of-voice work, brochures, banners, eshots and the like.
They're people like, well, me.
The creative copywriter and your budget
A creative copywriter will pull in the ultra-playful concept work associated with TV, print ads and billboards. Semi-creative work ain't that. But it's not rehashing blogs, either.
Semi-creative copywriters will still write clever headlines and taglines, write with brevity in a specific tone of voice, stay on-brand and craft compelling calls to action.
The point of these distinctions and distractions, like most stuff in business, is financial.
Creative copywriter needed? Not for a series of blogs. That's something a decent content writer can handle for a quarter of the cost. (Consider that creative copywriters can command day rates of over £1000 in some cases.)
Somewhere in the middle, a semi-creative copywriter will have a solid portfolio of web and brochure work for a bunch of reputable clients.
Creative copywriter day rates
Typical creative copywriter day rates might break down something like this:
Content writer: £150-£300
Semi-creative copywriter: £250 to £750
Creative copywriter: £500 to… think of a number.
Face it, you wouldn't buy a Lamborghini if you never went further than Tesco. And you wouldn't buy a 20-year-old Mini to cruise around Monte Carlo. Choose your writer with care and get the precise result you want from your content and copy, at a price that fits your budget.
Which is probably the kind of creative work you like best.